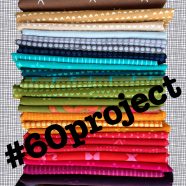 This year I will be celebrating my 60th birthday.
As many of you know, this has been a goal of mine for a number of years … every birthday my sister asks, "Aren't you 60 yet? What have you been doing with your life?!"
Well, now that I will be achieving this new decade, it has come to my attention that I need some new goals. And so, introducing … the #60project!


the #60plan
The plot is to make sixty 5″ quilt squares over the coming year. And each is to have some meaning to me; I'm keeping a list of ideas to somehow translate into fabric. So far, I've got things like: 60, 2017, my family, my pets, my neighborhood, Grand Rapids, Boston, science, words, books, art, color, food, travel, music, sewing, winter, and so on. I have a feeling I may be soliciting suggestions down the road, so please feel free to contribute ideas! I don't think I will have any rules regarding the techniques used … I'll probably do some patchwork, some collage, and maybe some cutting out of a 5″ square piece of fabric when I'm stumped! My game, my rules …
the #60fabric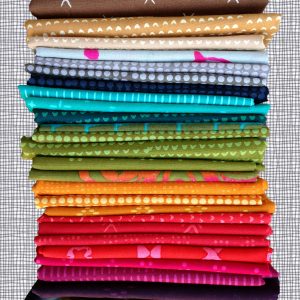 To give the whole thing some cohesion I bought $100+ worth of bright coordinating batik fabrics in half yard pieces. What fun to freely indulge! (A shout out to Fabric Corner in Arlington for stocking this fabulous fabric.) I just love the colors; they definitely are "my" colors. And as I said, I haven't totally figured out the rules of my game/project, but I may be allowed to add in some solids if necessary. (Of course, when have I been known to follow such rules!)
the #60goal
To display my progress, I will get some 50″ stretcher bars and make a dark grey felt "wall" to pin up the squares to as I go. My end of year goal is to arrange the completed squares in a pleasing array and sew them together to make a wall quilt. I'll probably set them up in an 8 x 8 grid … giving me the concept of 60 plus 4 to grow on, or a defensible out if this thing takes me four years instead of one!
the #60thanks
I could conclude this with some deep commentary about life, new challenges, etc., but, yeah, who wants to read that. I'll just keep it to a simple moment of gratitude for all that I have and all who are part of my life. Thank you! And, of course … "Thank you, Mom!" for being the unwitting underwriter of my project through your generous birthday gift! That and your never-ending encouragement …
Please join me on my journey. Knowing you are watching will help keep me on track …
Let the #60project begin!