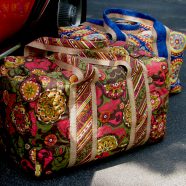 Why do women collect purses and bags? Maybe it's the sense of possibility in that empty space: journeys to take, people to meet, memories to carry home. Or maybe it's that a bag always fits, any season or time of the month. Or maybe, just maybe, it's simply fun! A special bag can set a mood or spark an old outfit for a memorable day (or night!).
I've been especially inspired by vintage purses. Beaded wristlets. Ladies who lunch pocketbooks. Sweet evening bags. But, as always, our needs change with times. Back in the day who ever thought you might need space in your bag for a telephone, typewriter, text books, and stereo!
I take my cues from vintage styles and apply them to today's needs. Cell phone pocket? Kindle cover? Laptop sleeve? Oh, yeah.
And let's face it, those new electronics? They'll be vintage before you know it!
So, in the meantime, let's have fun! Buttons and bows, prints, and tweeds. Bags are a great accessory to play with. Now if I could just remember which purse I put my library card in …
In my etsy shop you'll find a variety of purses for day and evening, totes for everyday, duffles for weekends away, and protective sleeves for your pet electronics.
Don't see what you want? Email me with your ideas!