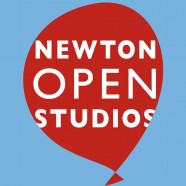 It's Newton Open Studios time again!
Open Studios, one of my favorite community events, wherever the community! For the last few years I have been sharing Newton Open Studios exhibit space with 6 gifted artisans and have had a wonderful time. But I have been surprised by the number of questions I've received from friends who have never visited an open studios. So, since Newton Open Studios is all about community, I thought I'd share some of those questions & answers.
What is Newton Open Studios?
Newton Open Studios is an annual self-guided tour of 50 pop-up exhibits/sales in homes, studios, and shared spaces all across Newton. It's an opportunity to visit with 160 local artists and learn about their work in a relaxed non-gallery setting. And it's free!
What will you see?
A wide range of fine art and crafts. Painters, illustrators, jewelers, potters, weavers, photographers, printers, sculptors, fiber artists, glass artists, and more. The breadth of Newton artists is amazing.
Who are the artists?
Your neighbors! This is an open non-juried event. Some artists are hobbyists, some have non-art day jobs, and others are full-time artists showing in multiple galleries. What they have in common is extending this invitation to the community. Many artists spend a majority of their time working alone, so it's a joy to share their work with others.
Where are the open studios?
In your neighborhood! With 50 venues scattered across Newton there is bound to be one near you. Many artists show in their own studio, either in their home or a rented space. But not all venues are in the artist's work studio. Some artists will share a larger exhibit space; the camaraderie of community is an added bonus! As you walk/drive around town, keep an eye out for bouquets of red balloons which indicate an open studio location.
What do I do when I get there?
Most artists will have a variety of finished work available. Some, especially those who open their home studios, will have works in progress to see. Browse. Ask questions about the process, materials, and how they began making art. Be honest (but kind) about what you like or dislike. The feedback is appreciated; after all, they invited you to visit.
Do I have to buy something?
Of course not (though the artists will be thrilled if you do). Among those who have items for sale there is a wide price range. You may see a stunning precious stone necklace, an 8 ft wide oil painting, a postcard print of a watercolor painting, or a ceramic spoon rest. Enjoy the browse, support the artist if you are so moved.
Okay, how do I start?
First, you need a map. You can download one from NewtonOpenStudios.org or pick up a copy at the Library or City Hall. The map and website have thumbnail photos of each artist's work. Interested in a particular art media? Want to focus on a neighborhood? Looking for a specific artist? The map can help you get started. Also, stop by the Newton Free Library on the evening of Wednesday, April 4 for a preview of some of the work that will be exhibited (and some snacks, too)!
What are the dates?
Newton Open Studios Preview Reception
Wednesday, April 4 at 7pm
Newton Free Library
Newton Open Studios
Saturday & Sunday, April 79 &8
11am-5pm
Where will I be?
I will be showing some of my quilts, tea towels, and fabric collages at 72 Columbus Street, Newton Highlands (the Woman's Club Workshop building). In addition to myself, there will be six other award-winning artisans at the venue showing weaving, jewelry, photography, glass work, and fish rubbings. More details at Artisans at 72 Columbus St. We can't wait to meet you!