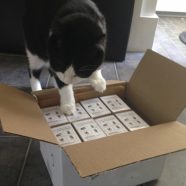 Whether it's an apron, quilt, pillow, or toy, I take pride in sewing with quality craftsmanship. It's just one of the lessons my mother (Dora) instilled in me.
Just finished another batch of MINI Porta-pets for the Art-o-mat folks and was able to call in some help for that all important final QC check! After careful consideration, Morrison approved and the shipment went out yesterday. Maybe they will be arriving at an Art-o-mat near you?
Don't know what Art-o-mat is? Check out their website or Facebook page!