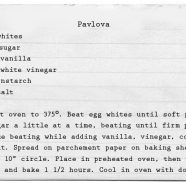 Many of my apron designs make me think of food. (Okay, most things make me think of food.) And I love to share food with my friends; feeding the body and soul and all that …




Santa Hats
Quick, cute, healthy and tasty. Great for snacking after a marathon sewing session.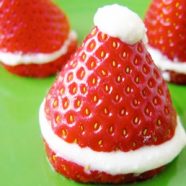 10 fresh strawberries
½ cup part skim ricotta cheese
2 tablespoons confectioners sugar
¼ teaspoon vanilla
Hull strawberries and slice a small portion off the bottom so that the strawberry will lay flat. Mix together ricotta, sugar, and vanilla. Using a spoon (or pastry bag, it's quicker), put filling between the bottom slice and the top slice. Add a dab of filling to the tip of the strawberry.
These can be enjoyed immediately or put in the refrigerator to be served later. These will last one day in the fridge.
Thank you to Lisa at Snack Girl for this and other great healthy recipes!
(For one strawberry = 27 calories, 1.0 g fat, 0.6 g saturated fat, 3.1 g carbohydrates, 0.6 g sugar, 1.5 g protein, 0 g fiber, 16 mg sodium)
Mrs. Keller's Gingerbread
A very old, very dark, very gingery, very very good gingerbread. Love this baked in a bundt pan. First day serve it warm with fresh whipped cream, second day serve it with a warm lemon sauce, third day … yeah, right.
I don't have a source for this recipe but was told it was circa 1905 from someone in Boston. Dissolving the baking soda is an old technique that ensures you don't get any of those nasty lumps of baking soda in the cake. Click on the image of the recipe for the complete instructions in a pdf format.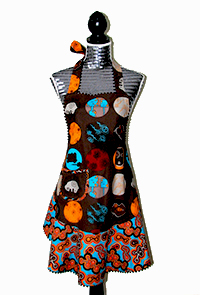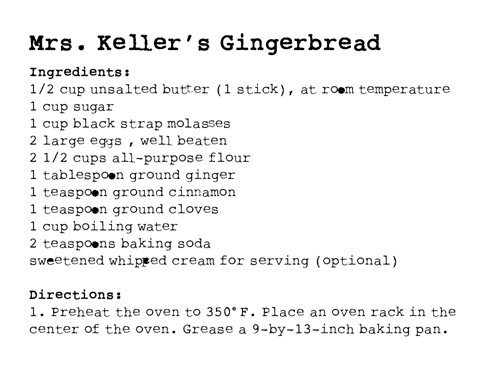 northern spy apple pie
This is my current favorite apple pie concoction, and first prize winner at the 2011 Volante Farms apple pie contest. I love the tart but rich flavor of northern spy apples. And the addition of crystallized ginger works beautifully with that wonderfully cidery flavour. See the Volante Farms website for more prize-winning pie recipes.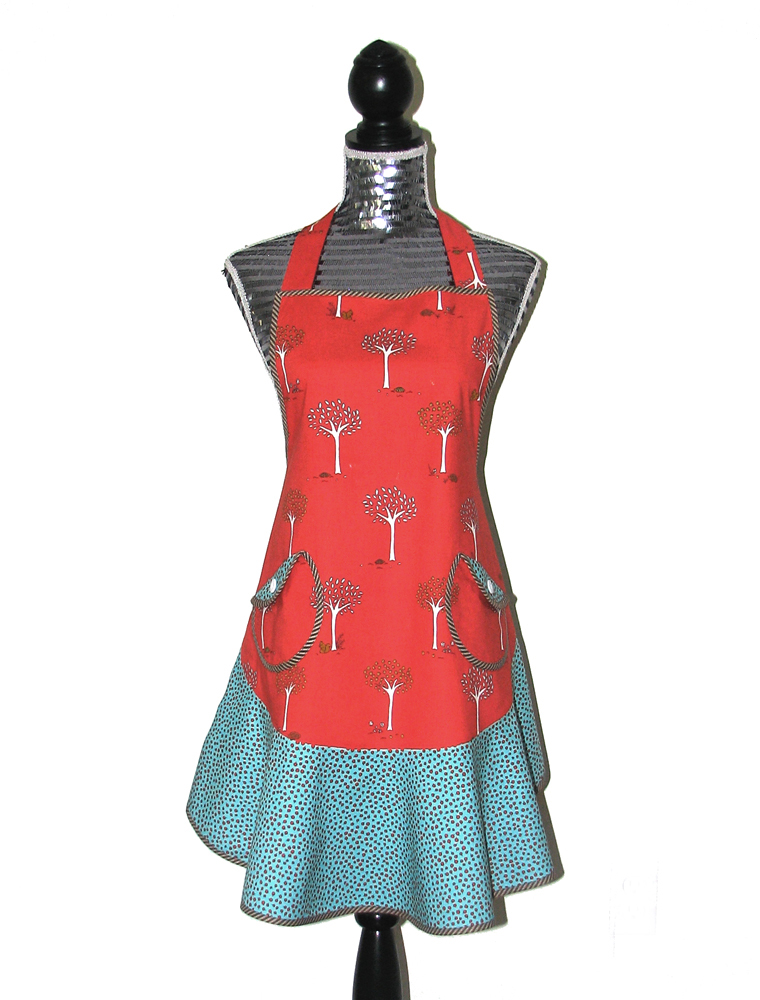 3 pounds Northern Spy apples – peeled, cored, and sliced into 1/2" slices
2/3 cup sugar (less if using sweeter apples, more if very tart)
1/4 cup flour
3 T crystallized ginger, minced
2 T bourbon
1/2 tsp cinnamon
1/4 tsp nutmeg
1/8 tsp allspice
1/8 tsp cardamom
1 T butter, cut in small pieces
Preheat oven to 425°F.
Prepare your favorite pastry crust recipe for a two crust pie, and refrigerate.
Gently toss all filling ingredients together in large bowl.
Roll out one dough disk for bottom crust and another for the top. Place bottom crust into pie plate. Mound filling into plate and dot with butter pieces. Place top crust on top of filling and crimp edges. Brush top with milk and sprinkle with sugar. Cut 5 or 6 slashes in top to allow steam to escape.
Bake for 60-70 minutes. Apples should be tender; if crust browns before apples are done place foil over edges of crust.
crybaby cookies
A recipe from my Grandmother Emily. I don't know where the name came from, but what grandbaby would cry if they held one of these moist, delicious molasses cookies?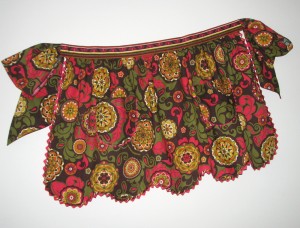 Apparently, their "proper" name was Ginger Creams. Who knew? She also was known to add a handful of raisins to the batter.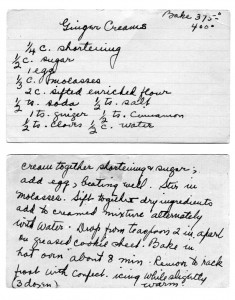 pavlova
My mother learned to make Pavlova in New Zealand in the 1960's. I'm sure she wore a handmade apron as she created this wonderful early summer dessert topped with whipped cream and strawberries. Happy Mother's Day Mom! (And thanks for the typing lessons!)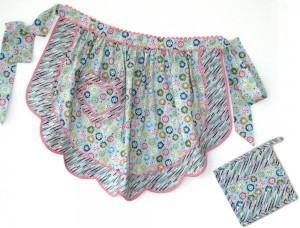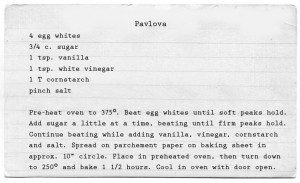 black bean salsa