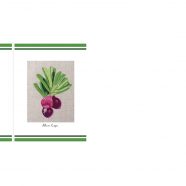 Tea towels are the ultimate functional kitchen item. Drying dishes. Protecting from heat. Cleaning up. But why use boring towels?!
We all have family recipes that have been passed down through the years. One holiday I printed tea towels for my family with my grandmother's hand-written cookie recipe; it was a lovely connection to a shared family history. I've since added others to my collection, and each one tells a story. Mom's lemon meringue pie, Mary's mother's treasured recipe collection, etc. They make a great gift for family reunions and weddings.
But recipes aren't the only items that tell a family story worthy of sharing … children's art work, wedding invitations, maps, photos of special places or people. What fun to have these memories in your hands.
After I entered into the world of art quilts and fabric collage, I realized that some of my vegetable collages would also make great tea towels.
The evolution of vegetables: Take one
Farmer's market … Fabric collage … Tea towels!

The evolution of vegetables: Take two
Farmer's market … Coleslaw … Recipe tea towel