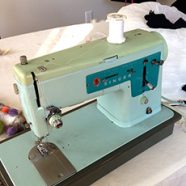 This fall has been a whirlwind and so the usual last minute sewing for the holidays has been ratcheted up yet another notch. And then came the holiday burn-out.
Not for me, but for my trusty sewing machine. I had taken a quick snack break and then sat down to finish up the last batch of luggage tags. Hurrah! Lovely range of blue fabrics. Flipped the switch. Silence. Tried again. Unplugged. Replugged. Checked outlet and power cord. Silence. The only sound; a muffled whimper coming from the vicinity of my soul.
Pulled out the screwdriver and a fresh batch of hope. Aha! A blown fuse on the power supply board! Hurrah, that's easy. And look, what pretty christmas colors on the board.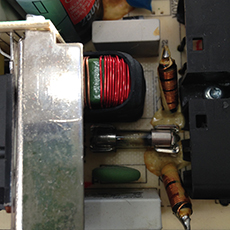 Okay, not so easy. Long story short-ish. New fuses were good, until I installed them. Called Tom (at Ann's Fabrics in Canton), again. He helped diagnose and ordered a new power supply board which will arrive next week.
In the meantime, I have the best neighbors!
Turns out you can borrow not only sugar, flour, spices, refried beans, butter, eggs, parking spaces, and pet-sitting services BUT even a fabulous aqua vintage sewing machine to get me through the coming week.
My neighborhood rocks! Thank you!!!